Quibi was a mobile-first subscription video service that launched back in April. It relied on short episodic shows that were packed with Hollywood stars.
Each episode was 10 minutes long or shorter and designed to be watched on your phone, in bite-sized bits. There are a variety of reasons it didn't succeed, but a lot of the blame falls on the pandemic and launch timing. 
Still, there is hope for other niche streaming services. Although giants like Netflix, Amazon Prime Video, Hulu, and Disney+ continue to dominate, there's still room for independent streaming services that provide more niche offerings. 
As you'll soon learn there's a niche streaming network for almost every kind of viewer, from the horror-obsessed to anime fans, classic film buffs, and everything in between.
In this article, you'll learn about the top 10 best Quibi alternatives, with their pros, cons, and features that make them stand out. Hopefully, past Quibi users will find the perfect niche streaming network to take its place. 
Check out our roundup of Best Streaming Services
---
1. The Criterion Channel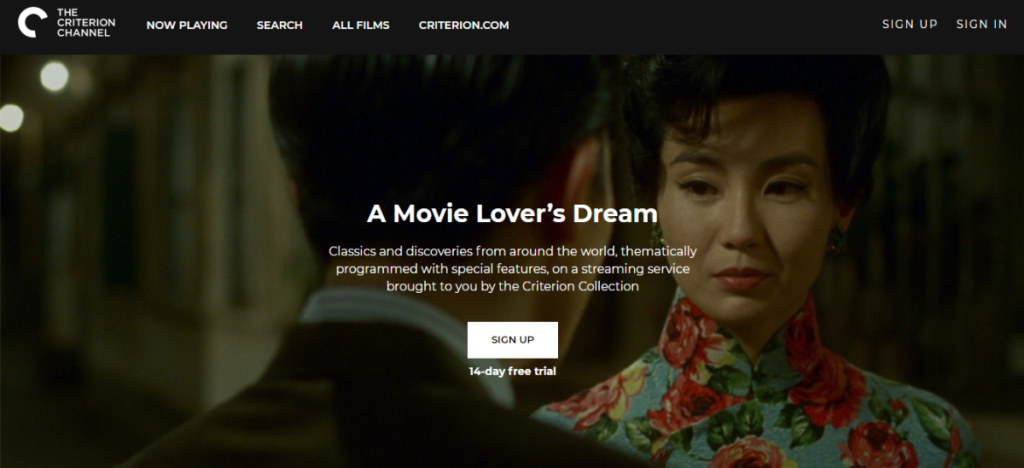 The Criterion Channel is a classic cinema lovers' dream. Currently, you'll find around 2000 different films to choose from, plus a ton of extras that go with the films.  
The movies are compiled into different collections that have been curated by classic film lovers. The navigation is a bit confusing, but the curated collections help make sense of the massive collection of movies. 
Every month you'll find a changing collection of classic movies from around the world. A lot of the movies are more obscure and a lot of the titles are in different languages, so you'll need to turn on the subtitles to enjoy the film. 
Those who consider themselves cinephiles will find a lot to love with the Criterion Channel. 
Pros
Incredible selection of curated classic films

Offline downloads available

14-day free trial
Cons
Not every movie in featured collections can be streamed

No user profiles for individual recommendations
The Criterion Channel is perfect for people who are fans of classic cinema and film history. 
---
2. Acorn TV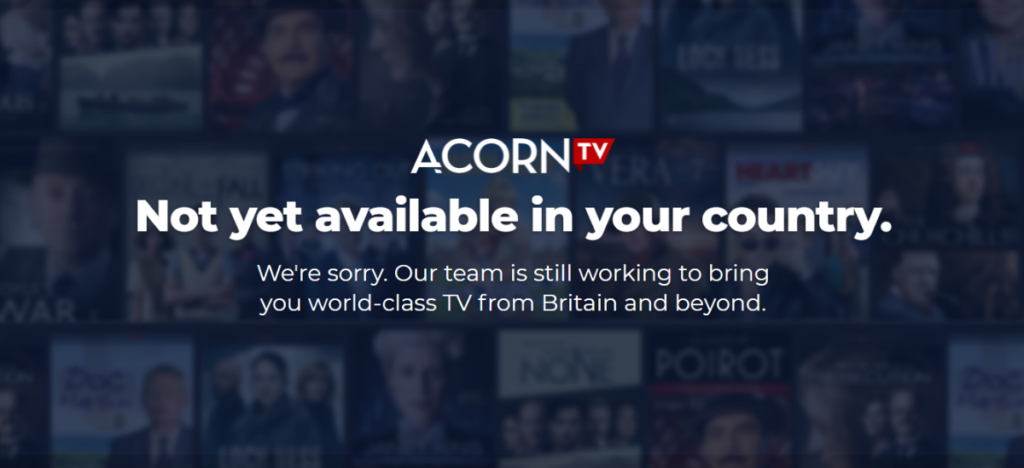 Acorn TV is a streaming network that has current and past shows from Britain, Australia, Ireland, and a handful of other countries. It has network television shows, along with a handful of Acorn TV originals you can't watch anywhere else. 
If you're American, then you probably won't be familiar with any of the programming. But, this is great, since you'll get access to shows and movies that are brand new to you. However, the movie selection is quite small compared to other networks. 
Pros
Access to British comedies, dramas, and more

Easy to navigate and find shows

Free with ads plan available

14-day free trial
Cons
The only resolution offered is 720p

Interface isn't as modern as other streaming networks

Only available in the US and Canada

Can't watch content offline
Acorn TV is a great choice for those who can't get enough of British crime shows and dramas.
---
3. Crackle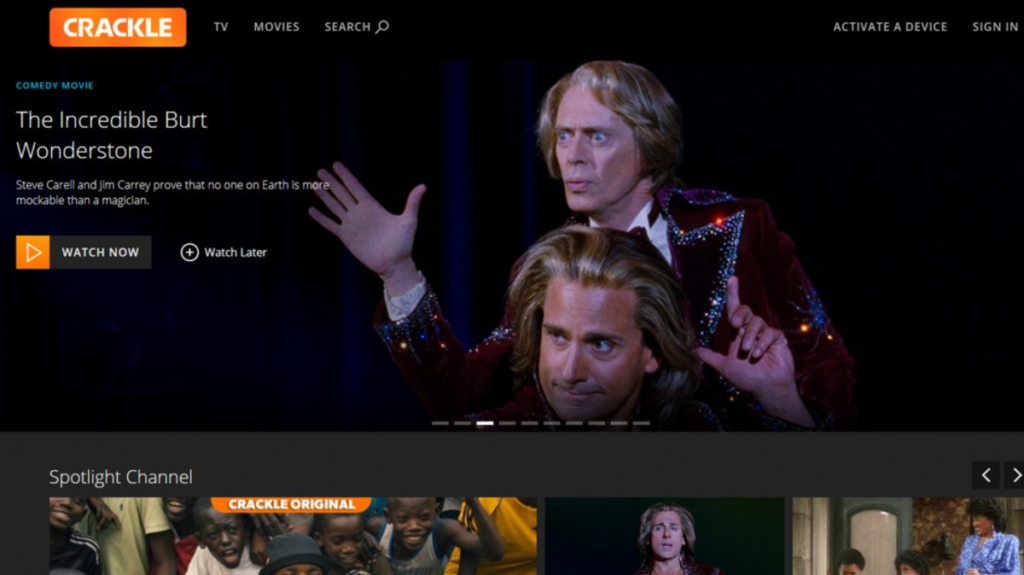 Crackle is a completely free movie and TV streaming platform. It has a smaller library when compared to streaming giants like Netflix and Amazon Prime Video, but it's hard to beat free. 
You'll find a variety of new and old movies and shows. However, some shows have limited availability, so you run the risk of getting hooked, only to find out the future seasons aren't on the network. 
Beyond licensed shows and movies you'll find a variety of Crackle originals like the horror-comedy movie Office Uprising, StartUp a drama web television series, Oath an American crime drama, and much more. 
The lineup of shows and movies is constantly changing as well, so you can easily find something fresh and unique that you've never seen before. 
There's even a unique feature that lets you submit a request for streaming content to appear on the platform. 
Pros
Free forever plan

Has some great blockbuster movie hits

Has its own original programming you can't stream anywhere else
Cons
The free plans have ads 

The library can feel limited compared to other services

Currently, no HD content is available
Those who are seeking a free streaming alternative and don't mind a bit of advertising might enjoy Crackle and it's original content. 
See the full review of Crackle here.
---
4. Crunchyroll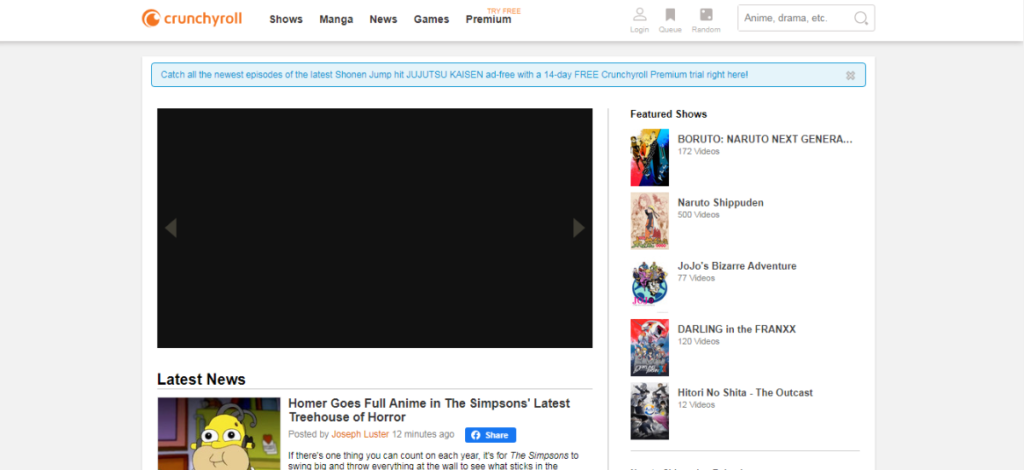 Crunchyroll is one of the best streaming networks for fans of anime and manga. It boasts one of the largest collections of anime online, ranging from older anime classics to current popular shows. 
Everything is translated into multiple languages too, so you can watch a dubbed version or subtitles in your preferred language. 
You'll also find a ton of features that elevate this beyond a streaming network too, like access to the latest anime news, anime-based games, and read manga. 
There's also a tiered subscription model, so you can sign up for the highest level plan to get access to anime episodes one hour after they air in Japan. You'll also find a free plan that comes with ads. 
There's a lot of content to digest on the platform, but for anime-lovers who can't get enough, it could be the perfect network for you. However, casual fans who just want to watch a show or two might find the platform overwhelming. 
Pros
Probably the best service for anime and manga fans

User forums can let you connect with other fans

Has original content you can't find anywhere else online

Free with ads plan available

14-day free trial
Cons
You'll have to deal with ads on the paid plan

The website can be difficult to navigate and find what you want to watch
Crunchyroll is one of the best streaming networks and online networks for fans of anime and manga, you'd be hard-pressed to find a larger selection online.
See the full review of Crunchyroll here.
---
5. Shudder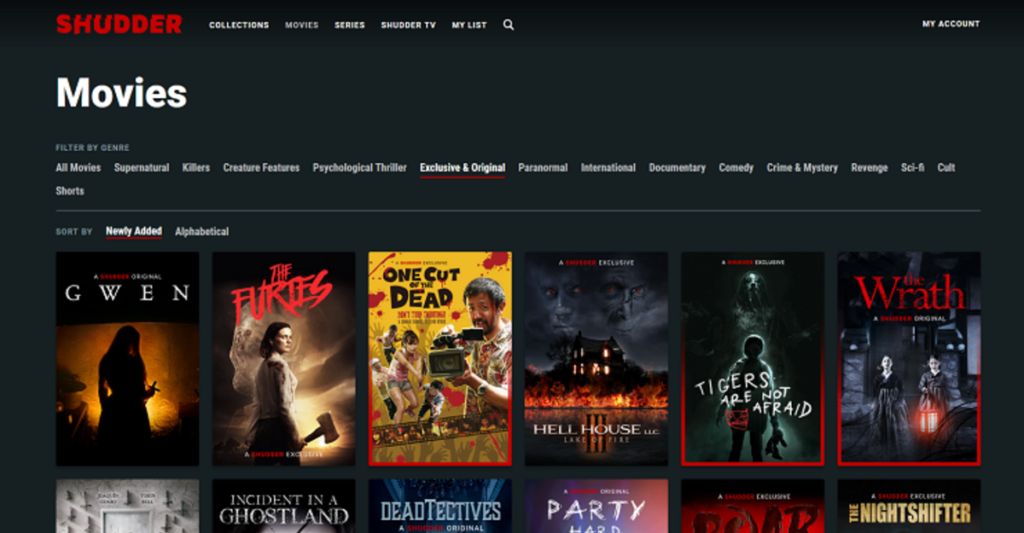 Shudder is a horror movie lovers' dream. It's like Netflix for horror and scary movies. The Shudder streaming network is brought to you by AMC. 
You'll find a range of different horror, thriller, and suspense movies that are curated by a team of experts. For example, there's Asian horror, 80s horror, and a wealth of other curated collections. 
If streaming movies aren't enough to get your horror fix you'll also find podcasts, curated horror movie collections, and a built-in review system where you can engage with other fans. 
It also features a large selection of horror movies from the 70s and 80s. However, there aren't that many titles that stretch back into the 60s. 
Pros
Has a massive collection of horror films and TV shows

Don't have to sit through ads

7-day free trial
Cons
Some classic and notable horror flicks are missing

Doesn't support offline downloads on mobile devices 

1080p isn't supported on all content
Shudder has a nearly endless amount of horror and thriller content that's very difficult to find anywhere else. 
---
6. Peacock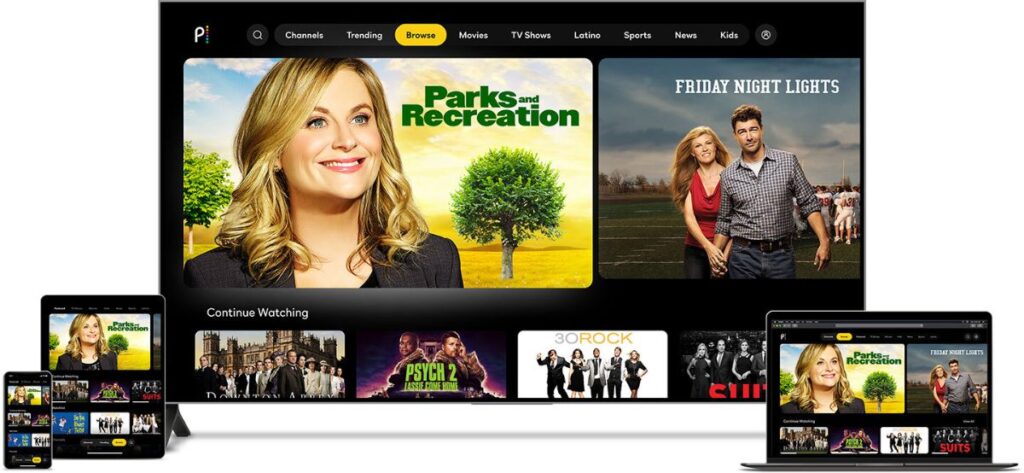 Peacock is a brand new streaming service launched by NBC Universal. It offers a ton of great movies and shows that are available to stream without ads. 
It's currently the only place to watch popular shows like Parks and Recreation, Battlestar Galactica, and Two and a Half Men. Fans of The Office will surely migrate over to this steaming network once it becomes the exclusive streaming network of the office in 2022. 
Pros
The free plan offers a lot of great content

The only place to stream new and old NBC shows

Has a growing selection of on-demand movies
Cons
Have to upgrade if you want access to more content

Currently, the selection is smaller than most
If streaming NBC classics like Parks and Rec is a requirement for you, then Peacock is worth checking out. Plus, it's ad-supported free plan lets you test drive the service. 
See the full review of Peacock here.
---
7. Ficto

Ficto is a relatively new streaming network built for mobile devices and is available to download on both iOS and Android. With its focus on mobile-only, it shares a similarity with Quibi.
It has a variety of different programming, including shows and shorts from Hollywood actors, internet celebrities, and even amateur content. The range of content you'll find is vast including, original films, comedies, dramas, docu-series, and much more.
What makes this app stand out is the interactive features. Instead of just passively consuming content, viewers can access live chat, choice-based narratives, polling, geo-location, and much more. 
It bills itself as an interactive storytelling platform and provides a wholly unique streaming experience for both creators and consumers. 
Pros
Unique Ficto-only shows you can't watch anywhere else

Provides interactive viewing experience, instead of passive consumption

Dedicated to supporting creators with a unique royalty model
Cons
Relatively new platform 

Has a smaller selection of content than most
Ficto is a unique platform that almost fills the gap left by Quibi. It's mobile-first approach and content interaction features might be exactly what you're looking for. 
---
8. MUBI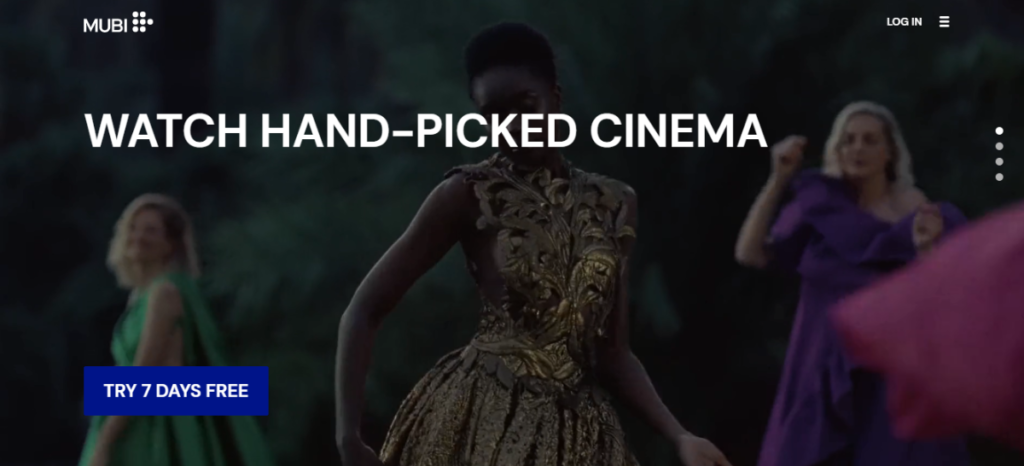 MUBI is built for independent film lovers. It features a hand-picked collection of films that changes every single day. This helps to solve the problem of finding a great movie or show to watch. There's a 'Now Showing' section which highlights 30 of the best films on the platform. Plus, there's always something new to watch, with one new film being added every single day. 
If you feel the need to keep searching, there is a large library of films you can browse as well. The collection features a wide range of different film types including, new indie flicks, festival circuit films, import films, cult classics, offbeat movies, and more. Overall, it's a very diverse collection for those with more eclectic taste. 
Pros
One new film is added every single day

Has built-in community functionality 

Offers 1080p streaming

7-day free trial
Cons
Doesn't support multiple user profiles

Doesn't have blockbuster hits
MUBI provides unique and changing collections of films for those who love to watch independent movies. 
---
9. Night Flight Plus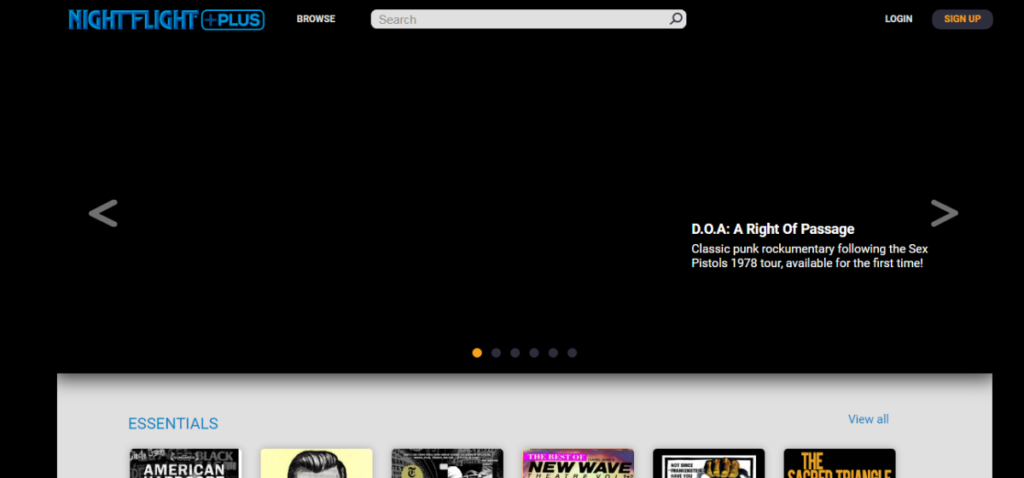 Night Flight is a very unique streaming network. It has all kinds of weird and strange films and shows. The show Night Flight was on the air for over 6 years on the USA network and developed a cult following.
Today the show has been adapted to the world of streaming. The same eccentricities that made it an underground hit in the '80s seem right at home in today's internet culture. 
You'll find original Night Flight episodes, live TV, cult classic movies, horror movies, music, animation, and a lot more. The entire network is curated as well based on its diverse selection of categories. 
Fans of the original show or 80s pop culture lovers will find a lot to love with this network. 
Pros
One of the most unique streaming collections available

All content is curated and hard to find anywhere else

7-day free trial
Cons
The unique collection isn't for everyone

The interface can be difficult to navigate and sort watched from unwatched
Night Flight Plus is the only streaming network to watch the classic Night Flight TV series and collection of cult classics and music. 
---
10. BritBox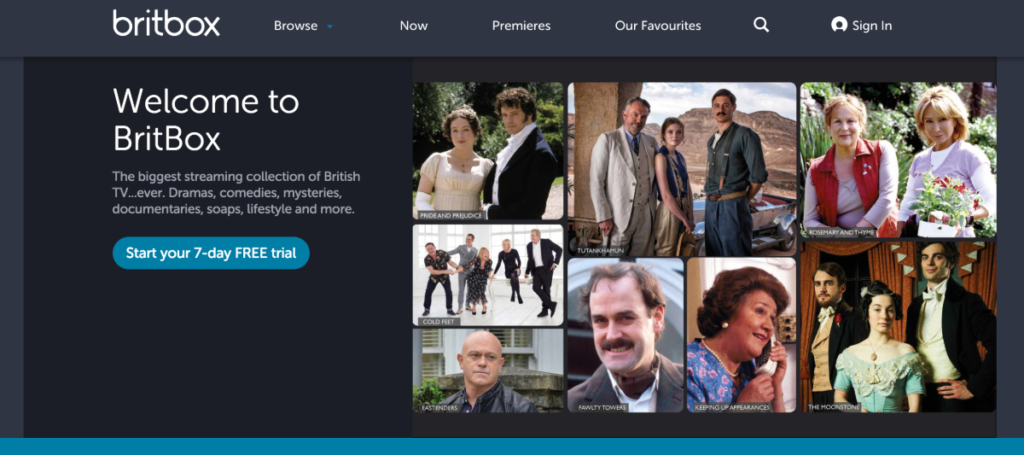 BritBox is similar to AcornTV, however, it solely focuses on British TV content. This network is created by BBC and ITV, so you get access to almost all of the most popular streaming British content.
Doctor Who fans can watch all of the classic episodes of the series, totaling 7 seasons. There's also a ton of extras that fans of the show will love.
Beyond Doctor Who you'll find plenty of other crime, drama, detective shows, and even soap operas. For newer shows, you'll be able to stream the new episodes a few hours after their UK release. 
Pros
Affordable way to stream BBC and ITV shows 

Allows up to five simultaneous streams

Doesn't have ads
Cons
Offline downloads aren't supported on mobile

Some streaming options limited to 720p

The streaming interface can be hard to navigate
BritBox is a great choice for fans of BBC shows like Doctor Who, you won't be able to stream these programs anywhere else. 
---
Wrapping up
Though Quibi had some promise, along with Hollywood support and a cast of A-list celebrities, the streaming network only survived for less than 7 months before pulling the plug. Although the list above doesn't provide the same Quibi-style of content, you'll find a variety of niche streaming networks to help fill the content void. 
Ultimately, choosing the best alternative to Quibi depends on your unique needs, and the type of content you want to stream. There are options for horror fanatics, independent and classic movie lovers, those who love British television, and much more.